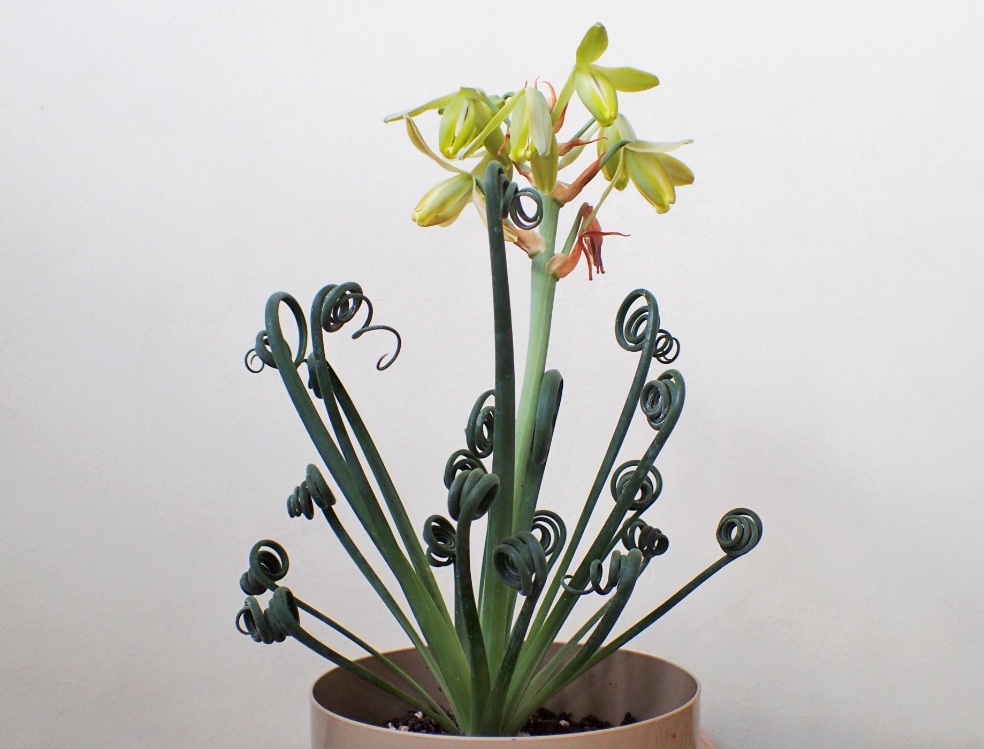 Albuca spiralis description
Albuca spiralis, known commonly as "Frizzle sizzle" or Corkscrew Albuca, is a perennial succulent belonging to the Asparagaceae family. This weird, deciduous plant, native to South Africa, grows 10-20 cm in height and 15-20 cm in diameter from an underground bulb.
Indeed, the peculiarity of Albuca plant is the spiral shape of the leaves that resemble corkscrews (narrow, spiral tipped with glandular hairs). Moreover, during late winter to early spring, this eye-catching plant sends up racemes of yellow or white fragrant flowers, with three spreading tepals and three forming a tube, each often marked with green or brown on the reverse. Furthermore, this easy to maintain plant is particularly an ideal home and garden plant without any pest or disease problems. 
Albuca spiralis care? 
You can grow your Frizzle sizzle in the garden in a sunny place, but don't forget to protect it from frost and too frequent rains.
Furthermore, as a houseplant, this curly succulent plant can be quite difficult to grow indoors as it thrives most when kept under sunlight, so put it in a sunny position. 
This unique plant needs also a rich and well-drained soil, regular waterings from January to July and no watering when the plant has no more leaves then put it in dormancy.
Datasheet
| | |
| --- | --- |
| Common Name | Frizzle sizzle, Corkscrew Albuca |
| Botanical name | Albuca spiralis |
| Family | Asparagaceae |
| Life Cycle | Perennial |
| Foliage | Deciduous |
| Basic Colour | white, yellow, green |
| Height | 10 -> 20 cm |
| Habitat | Dry grasslands, open woodlands, scrublands, rock gardens, slopes |
| Altitude | 60 – 2255 m |
| Bloom Time | March – June, |
| Plant Type | Bulbs, Succulents, Ornemental, Outdoor, Indoor, Aromatic |
| Fruit Type | Tell us |
| different tolerances | Hardy |
| Used Parts | Whole plant |
| Plant Uses | Ornamental |
| Active substances | – |
| USDA Zone | 8 (-12) – 10 (-1) |
| Sun Exposure | Sun, full sun |
| Soil pH | Alkaline, Neutral, Acidic |
| Soil Moisture | Dry, Moist |
| Soil Type | Sandy, Silty |
| Propagation | by seeds / by sowing, by bulb propagation |
| Germination | Tell us |
| Pests/ Diseases | Pest and disease free |