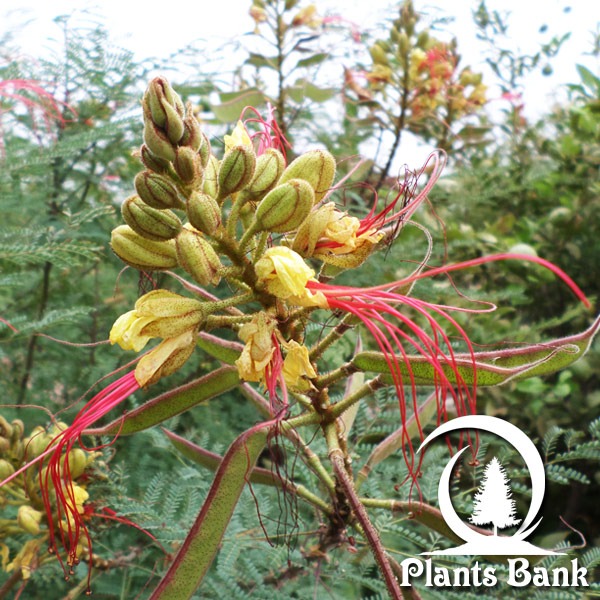 Caesalpinia gilliesii, commonly named "bird of paradise" is a deciduous shrub or small tree belonging to Fabaceae family. The stems are woody and adorned toward the top. The long paripinnate leaves may be deciduous or persistent depending on climate. Exceptional flowering in yellow clusters presents contrasting red stamens. This species is suitable for woodlands, Gardens and sunny edges .
---
Datasheet
Common Name
Bird of paradise

Botanical name
Caesalpinia gilliesii
Family
Fabaceae

Life Cycle
Perennial
Foliage
Deciduous
Basic Colour
yellow / gold, scarlet
Height
<3 m
Habitat
Woodland
Garden sunny edges
Bloom Time
May -> August
Plant Type
Shrubs, Ornamental,
Medicinal, Outdoor, Toxic
Fruit Type
Legume
different tolerances
Drought tolerant
Used Parts
Leaf, Root
Plant Uses
Medicine, Ornamental
USDA Zone
8 (-12), 9 (-7),
10 (-1), 11 (+4),
12 (+10)
Sun Exposure
Sun, full sun
Soil pH
Neutral
Soil Moisture
Moist
Soil Type
Clay, Sandy
Propagation
by Seed , by sowing,
by Cuttings, by layering
Germination
Cold Germinator,
Fast Germinator
Pests/ Diseases
cochineals, red spiders,
whitflies
Open Next Page To See More Photos.