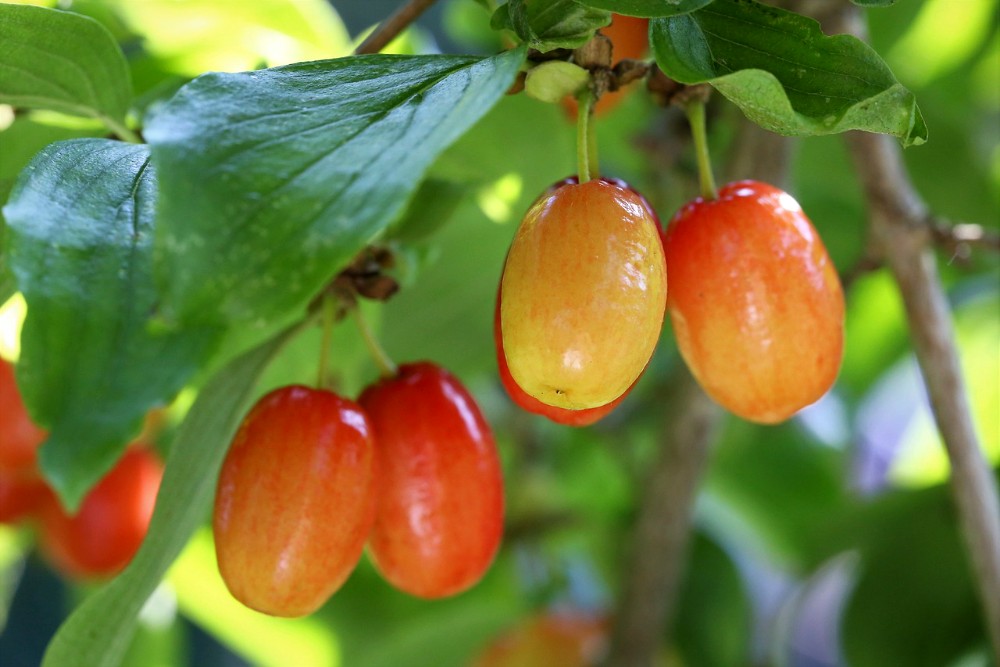 Cornus mas description
Cornus mas, known also as Cornerial cherry or Sorbet edible Dogwood, is a perennial flowering plant belonging to the dogwood family Cornaceae. This species native to Europe and Asia is a medium to large deciduous shrub or small tree that can reach 10m height.
Also, this wonderful plant has oval, dark green leaves that turn purple in autumn and give it a beautiful fall color. In addition to this, it is very interesting for its small rounded clusters of tiny, bright yellow, fragrant and melliferous flowers as well as its olive-shaped red fruits which are fleshy and edible. The berries only fully ripen after they fall from the tree. When ripe, the fruits become dark ruby red or a bright yellow.
Moreover, this very hardy plant is characterized by its resistance and longevity and can live up to 100 years! Then, its wood is also very hardy and durable, used for centuries for construction of weapons.
Datasheet
| | |
| --- | --- |
| Common Name | Cornelian cherry, Cherry dogwood |
| Botanical name | Cornus mas |
| Family | Cornaceae |
| Life Cycle | Perennial |
| Foliage | Deciduous |
| Basic Colour | Red, yellow, green |
| Height | -> 10 m |
| Habitat | forest hedges, steppe shrubs, light woodlands |
| Altitude | 0 – 1500 m |
| Bloom Time | February – March |
| Plant Type | Shrubs, Tree, Ornemental, Outdoor, Aromatic, Medicinal |
| Fruit Type | Berry |
| different tolerances | Hardy |
| Used Parts | Flower, Leaf, bark, Stem, Fruit, Twig, Peel, Branches, Whole plant |
| Plant Uses | Pharmacopeae, Culinary, Edible fruit, Perfumery, crafts, Ornamental, construction |
| Active substances | Tell us |
| USDA Zone | 4 (-35) – 8 (-12) |
| Sun Exposure | full sun, Part shade |
| Soil pH | Neutral |
| Soil Moisture | Moist, Well drained |
| Soil Type | Sandy, Silty, Clayey, Peaty |
| Propagation | by sowing, by Cuttings, by grafting |
| Germination | Tell us |
| Pests/ Diseases | Pests and diseases free |