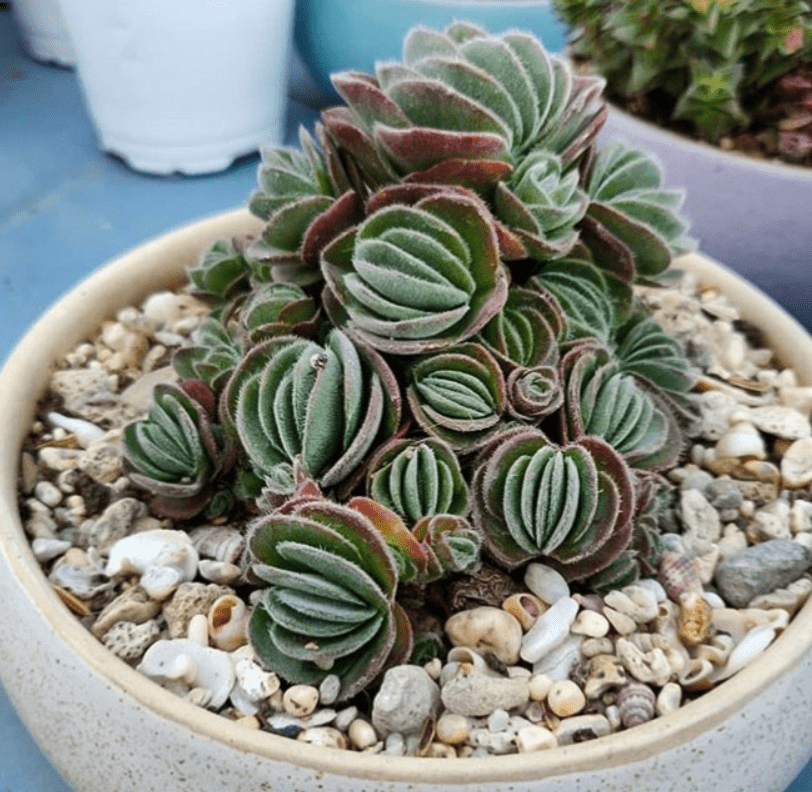 Crassula tomentosa description
Crassula tomentosa, known commonly as woolly Crassula, is a perennial or biennial plant belonging to the Crassulaceae family. Also, this fascinating succulent is native to Southern Namibia and Republic of South Africa. This Crassula species forms small and very aesthetic colonies that suits for indoor and outdoor gardens.
Furthermore, Woolly Crassula produces tight and densely branched rosettes of fleshy, clam-shaped, greyish-green leaves covered with very small white hairs. Also, this plant is a monocarpic species which flowers only once in life, sets seeds and then dies. Moreover, white to yellowish flowers are produced on unbranched spike-like thyrses with pedunculate lower dichasia during early to mid-summer. Finally, the produced fruit is usually capsular with dehiscent follicles.
This beautiful succulent can easily be grown from leaf cuttings, so keep it dry and put it on a sunny window-sill or greenhouse for the best plant shape.
Datasheet
| | |
| --- | --- |
| Common Name | Woolly Crassula |
| Botanical name | Crassula tomentosa |
| Family | Crassulaceae |
| Life Cycle | Perennial, Biennial, |
| Foliage | Evergreen |
| Basic Colour | white, yellow, green, grey |
| Height | 30 ->60 cm |
| Habitat | Stony slopes, sheltered rock crevices, under overhanging rocks |
| Altitude | Tell us |
| Bloom Time | April – June |
| Plant Type | Succulents, Ornemental, Outdoor, Indoor |
| Fruit Type | Follicle |
| different tolerances | Hardy |
| Used Parts | Whole plant |
| Plant Uses | Ornamental |
| Active substances | Tell us |
| USDA Zone | 9 (-7) – 11 (+4), |
| Sun Exposure | Sun, light shade |
| Soil pH | Neutral, Acidic |
| Soil Moisture | Dry |
| Soil Type | Sandy, Stony |
| Propagation | by seeds / by sowing, by leaf cuttings |
| Germination | Tell us |
| Pests/ Diseases | Mealybugs |