Dactylorhiza elata . orchis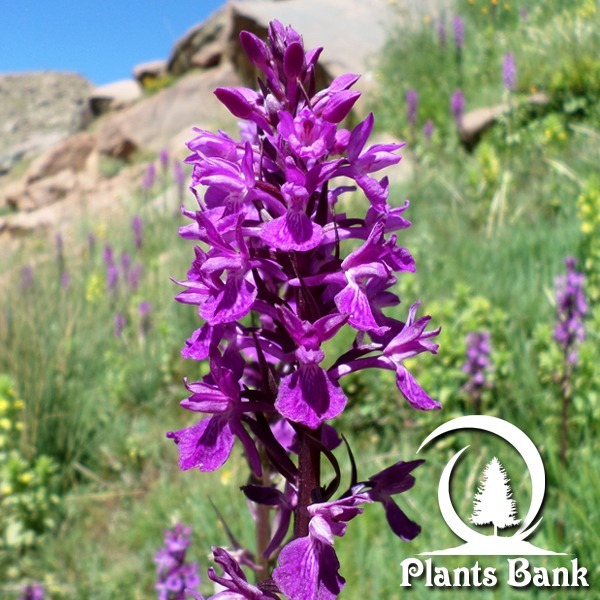 Dactylorhiza elata . orchis is a deciduous tuberous plant of the orchidaceae family. The green stems are erect and hollow and bears green oblong leaves with parallel veins. The inflorescence is a dense spike where 50 to 100 hermaphrodite purple flowers are placed. It blooms between late spring and early summer. The fruit is a capsule with flat seeds.
---
Datasheet
Common Name
Robust marsh orchid
Botanical name
Dactylorhiza elata . orchis
Family
Orchidaceae
Life Cycle
Perennial
Foliage
Deciduous

Basic Colour
purple, violet
Height
20 -> 50 cm
Habitat
Meadows, Woodlands
Altitude
2000 m
Bloom Time
May, July
Plant Type
Herb, Tuberous
Fruit Type
Capsule
different
tolerances
Tell us
Used Parts
Tell us
Plant Uses
Tell us
Active
substances
Tell us
USDA Zone
4 (-35), 5 (-29), 6 (-23),
7 (-17), 8 (-12), 9 (-7),

Sun Exposure
full sun

Soil pH
Acidic, Alkaline, Neutral
Soil Moisture
Dry, Moist
Soil Type
Clayey, Peaty, Stony
Propagation
by seeds / by sowing,
by Cuttings, Self sows
Germination
Tell us
Pests/ Diseases
Tell us
Open Next Page To See More Photos.