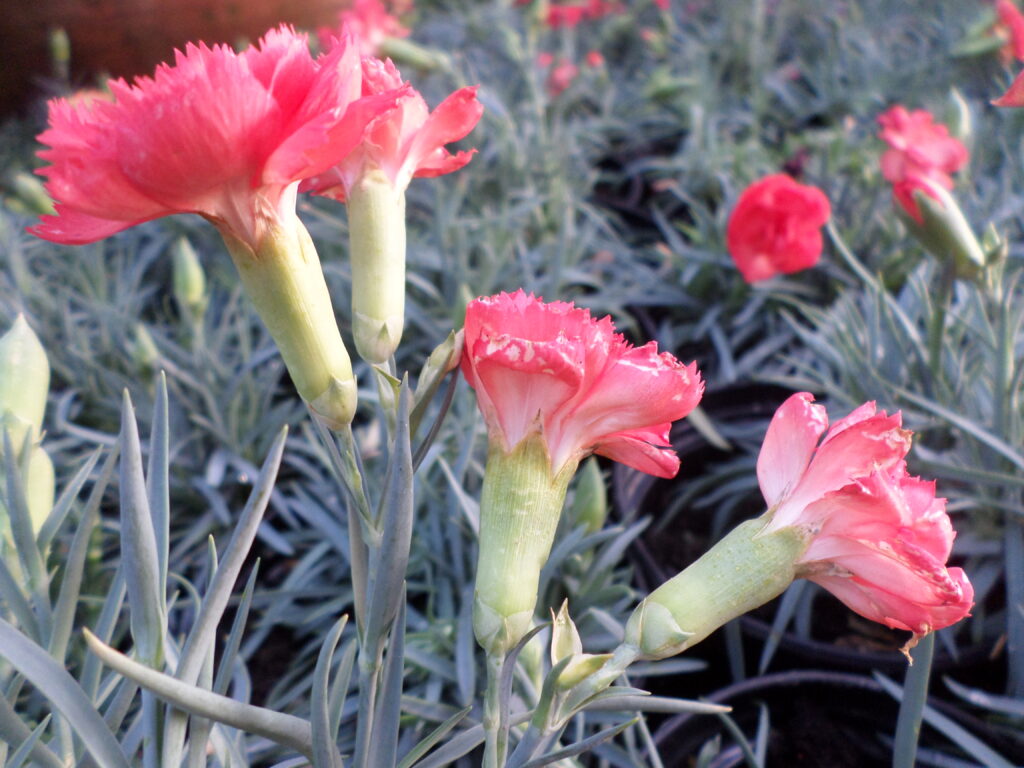 Dianthus caryophyllus, commonly named carnation, is a perennial herbaceous growing to 80 cm height. It is suitable to well-drained soils and produces grassy grey-green leaves with waxy covering and glabrous tall stems. The flowers are produced singly or grouped into cymes and they can be white, yellow, violet, pink or red. The fruit is an ovoid capsule.
---
Datasheet
Common Name
Carnation
Botanical name
Dianthus caryophyllus
Family
Caryophyllaceae
Life Cycle
Perennial
Foliage
Evergreen
Basic Colour
White/ Yellow/ Violet/ Pink/ Red
Height
10 -> 80 cm
Habitat
Arid zones, walls and rockeries
Altitude
600 – 2800 m
Bloom Time
May -> October
Plant Type
Herb, Ornamental
Fruit Type
Capsule
different
tolerances
Tell us
Used Parts
Whole plant
Plant Uses
Ornamental
Active
substances
Tell us
USDA Zone
6 (-23), 7 (-17), 8 (-12), 9 (-7),
10 (-1)
Sun Exposure
Sun, Part shade
Soil pH
Acidic, Alkaline, Neutral
Soil Moisture
Moist
Soil Type
Sandy, Peaty, Stony
Propagation
by seeds / by sowing, by Cuttings, by division, Self sows
Germination
Tell us
Pests/ Diseases
Rust
Open Next Page To See More Photos.