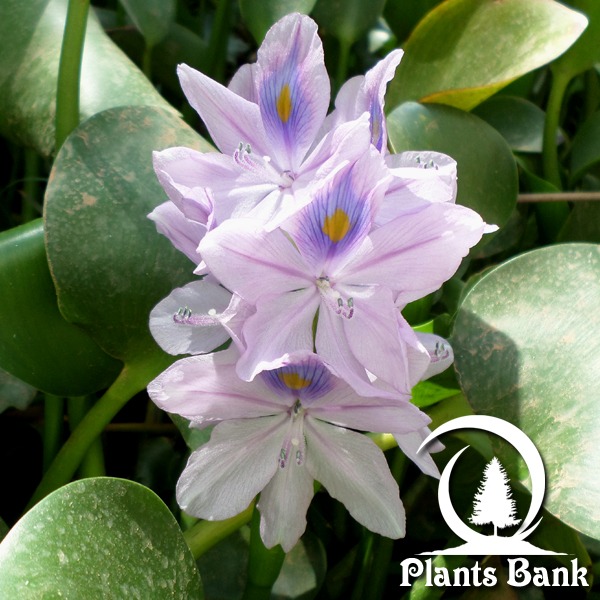 Eichhornia crassipes, called also water hyacinth, is a free-floating, aquatic, perennial herbaceous belonging to Pontederiaceae family. It is a rhizomatous and stoloniferous plant which produces rosettes of rounded and thick leaves with spongy petioles. Spikes of 8-10 violet or blue six-petaled flowers are supported atop erect stalks. The fruit is a capsule containing more than 300 seeds.
---
Datasheet
Common Name
Water hyacinth
Botanical name
Eichhornia crassipes
Family
Pontederiaceae
Life Cycle
Perennial
Foliage
Evergreen
Basic Colour
Blue – Violet
Height
30 -> 70 cm
Habitat
Wetlands,
Rainy woodlands,
Ravines
Altitude
200 – 2500 m
Bloom Time
June -> September
Plant Type
Herb, Bulbous,
Aquatic
Fruit Type
Capsule
different tolerances
Tell us
Used Parts
Whole plant
Plant Uses
Fodder
Active substances
Tell us
USDA Zone
9 (-7), 10 (-1),
11 (+4), 12 (+10)
Sun Exposure
Sun, Part shade,
Full shade
Soil pH
Neutral
Soil Moisture
Moist, Wet
Soil Type
Sandy, Clayey
Propagation
by seeds / by sowing,
by division, Self sows
Germination
Tell us
Pests/ Diseases
Tell us
Open Next Page To See More Photos.