AEONIUM PLANTS: HOW TO GROW AND CARE FOR ?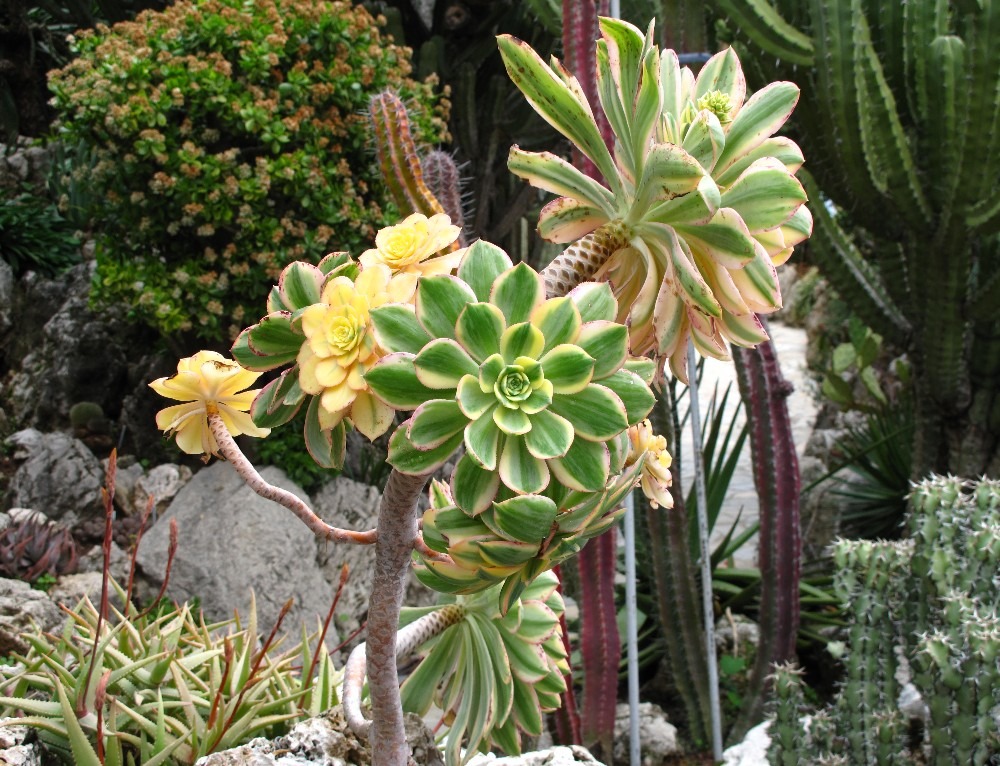 Let's discover in this article the most popular species of Aeonium and how to grow and care for them!
Aeonium is a unique Genus including about 35 species of colourful, attractive, evergreen rosette type of succulents. Plants of this genus are native to hot countries such as Canary Islands, Madeira, Morocco and Ethiopia.
These pretty succulents of many colours and shapes include species that are without visible stems and develop a single large rosette, while others are shrubby and measure up to 2 m in height.
The growth period of Aeonium begins with the first freshness of October and lasts until the end of May. Aeonium is without a doubt, one of the most beautiful and preferable succulents, especially because it tolerates drought and full sun and it can grow well both indoor and outdoor.
How to grow and care of Aeonium?
Aeoniums multiply very easily by stem cuttings including a rosette. It is then sufficient to plant the cutting in sand mixed with a little potting soil. Generally, the best time to do this is in the autumn, which is a time of active growth.
After that, and to keep your Aeoniums healthy, follow these instructions: 
They are easy to grow in sandy, well-drained soil kept at a dry-to-medium moisture level.
Water them very little in summer because they are at rest.
Fertilizer applications should be avoided until October.
In the fall, resume watering a little more frequently – one to three per month – mainly with non-calcareous water.
They also like partial shade and full-sun areas.
Popular Aeonium species
1- Aeonium arboreum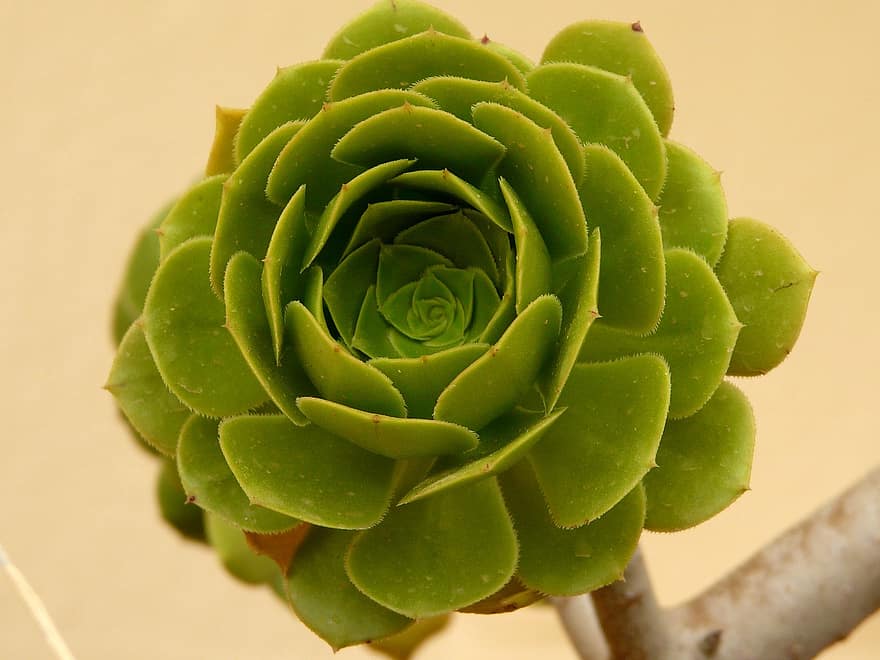 A. arboreum, named also tree houseleek, or Irish rose, is one of the most traded species. Firstly, it can reach up to 2m in height and forms bright green rosettes of glossy, fleshy, dark-purple leaves atop branching stems. Moreover, many shoots form under each rosette and quickly form new stems. In spring, large pyramidal panicles of bright yellow flowers appear. After that, each rosette that bloom dies.
2- Aeonium "sunburst"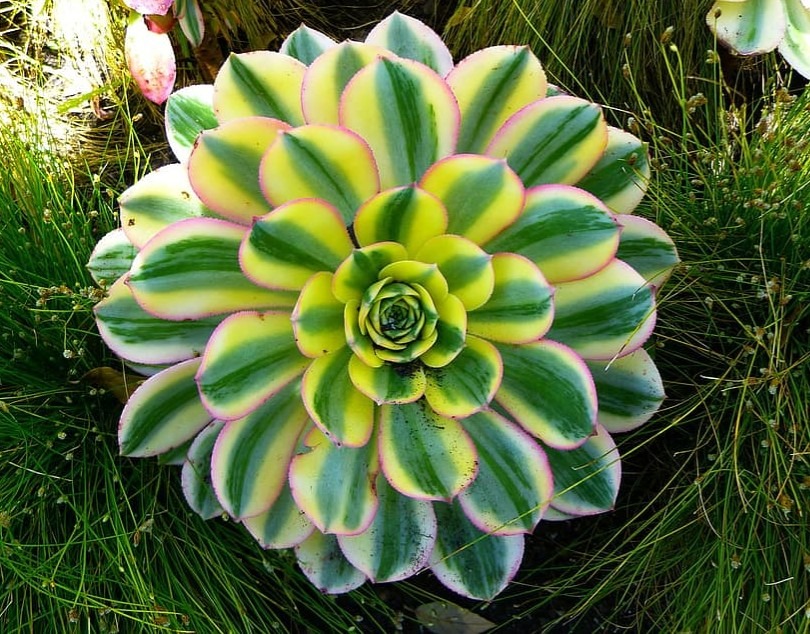 This plant is absolutely among the loveliest of Amoniums, especially because it is a branching, variegated succulent with large rosettes of fleshy, spoon-shaped leaves borne on grey stems. The green, yellow and creamy white foliage develops red-pinkish tips in full sun. Then in summer, mature Aeonium 'Sunburst' will bloom in small, star-shaped, white flowers. It is also a monocarpic plant, such plants die after blooming. 
3- Aeonium balsamiferum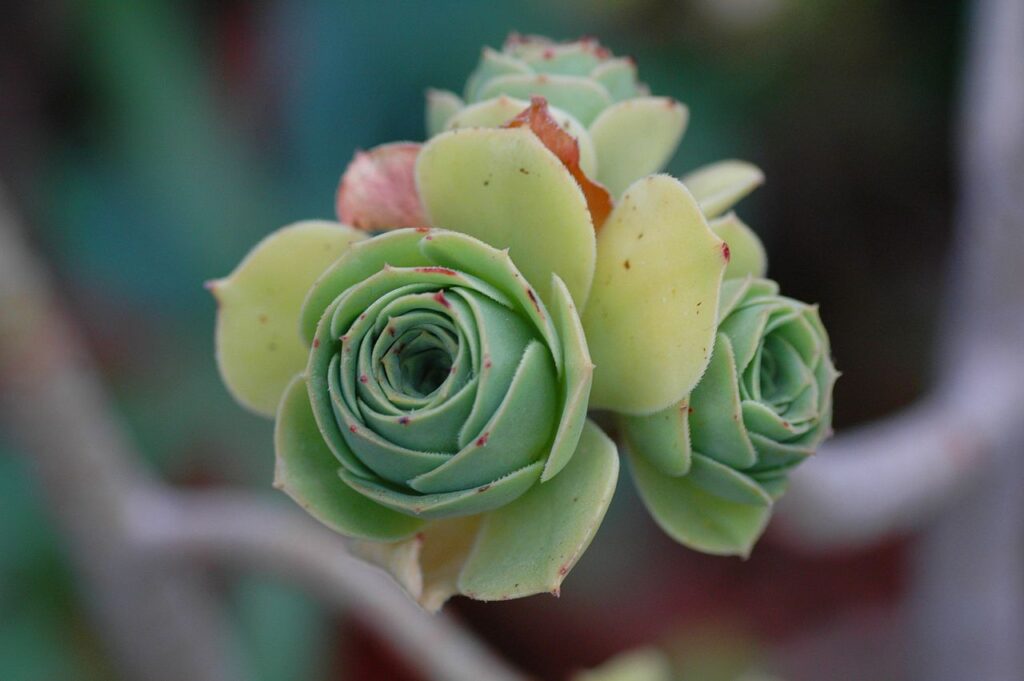 A. balsamiferum, also known as Houseleek balsamiferum, is a succulent subshrub of several rosettes that grow on  wooden stems. It has spoon-shaped, sticky, balsam-scented, pale green leaves with pointed tips and bright yellow flowers that appear on mature plants in mid-summer. Indeed, this decorative plant needs good drainage and moderate watering in summer for best appearance. 
4- Aeonium ciliatum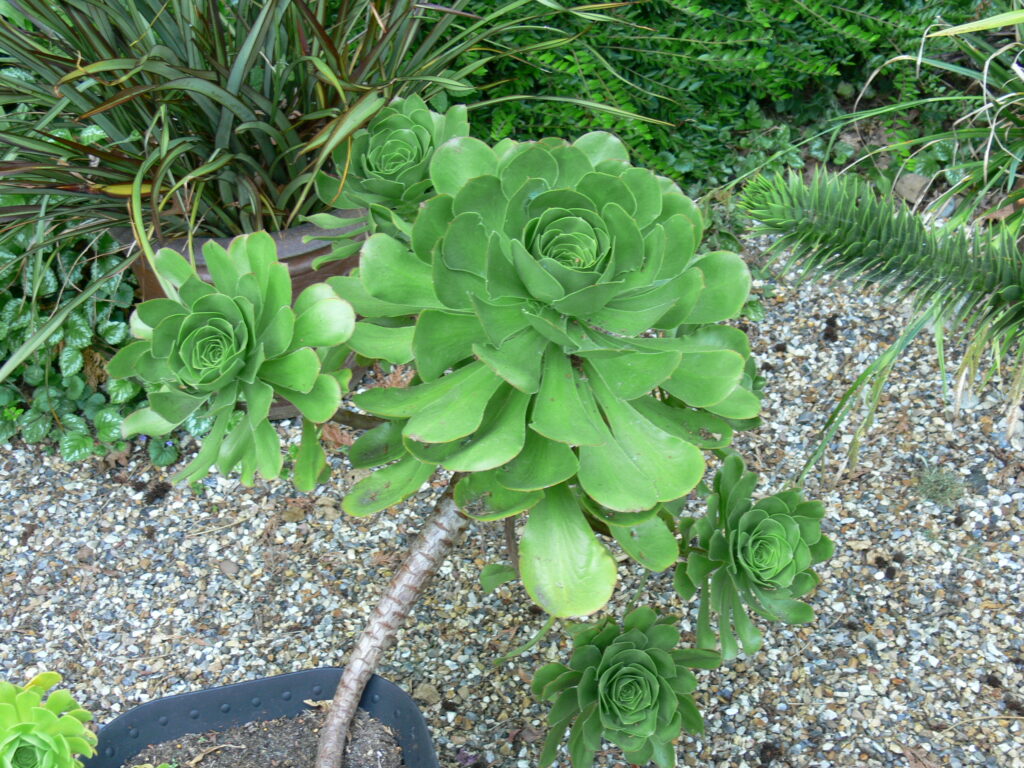 A. ciliatum is a tall shruby succulent with large, foliar rosettes emerging from a woody stem. Originating from the Canary Islands, It has fleshy, green leaves with redish margins. It has also dome-shaped inflorescence bearing small, star-like, cream-yellow flowers that bloom in spring. For optimal growth, put this succulent in full sun and well-drained soil.
5- Aeonium cuneatum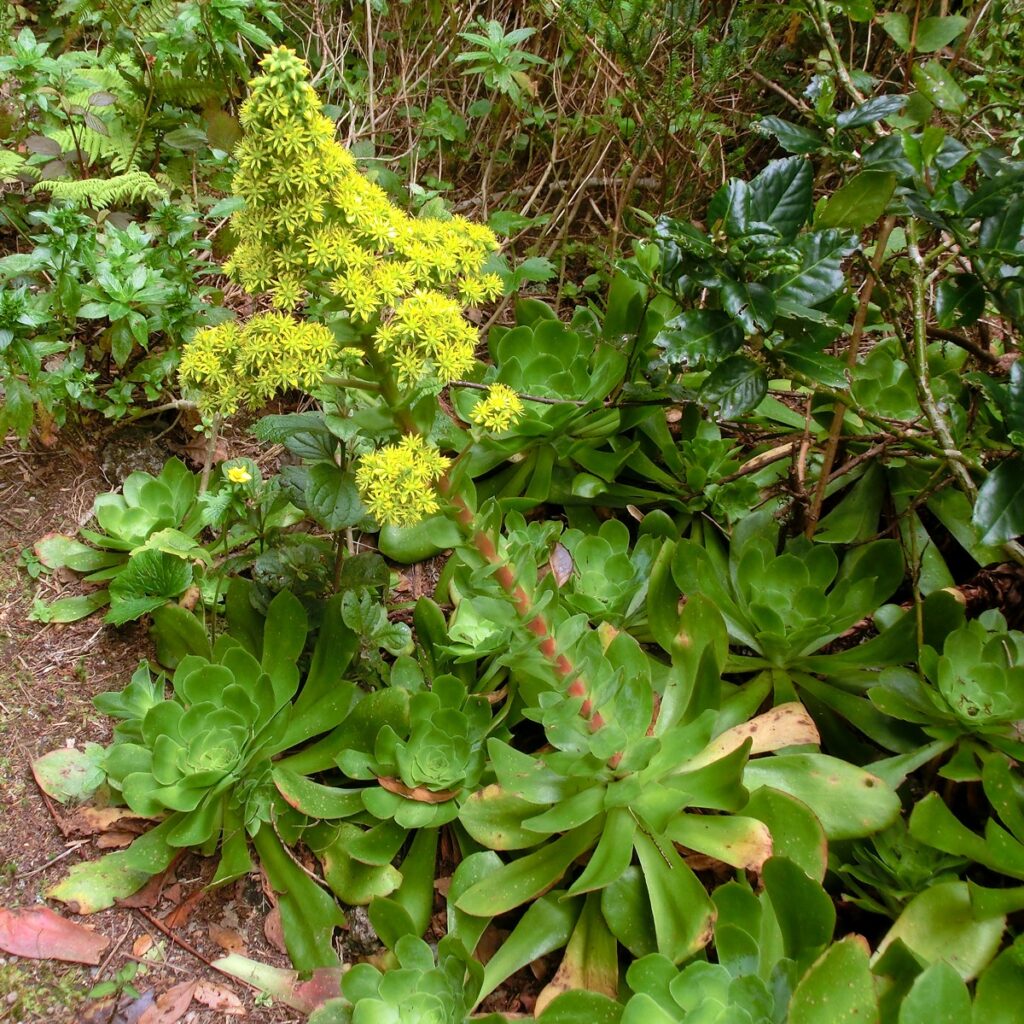 A. cuneatum, native to the Canary Islands, is a perennial succulent having large cup-like rosettes. The light green leaves are stemless and can sometimes clump side by side. The inflorescence of the branch has bright yellow flowers.  
The particularity of this green Aeonium is that is off-shoots readily to make a large group of plants, certainly ideal for those wanting to propagate more of their own.
6- Aeonium simsii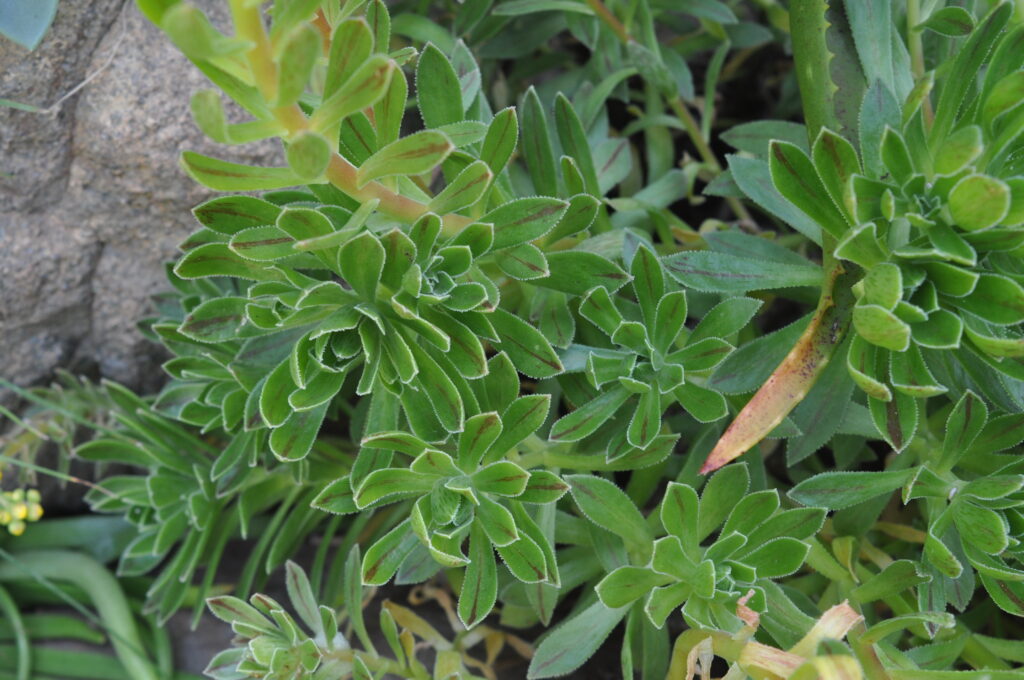 A. simsii is a fast-growing succulent belonging to the Crassulaceae family. The bright green foliage with distinct small bronze stripes forms a dense cushion of ground-hugging, small rosettes. During spring, wonderful, showy, yellow flowers with red stems appear on flat-topped clusters. Indeed, simsii is one of the more hardy varieties of Aeonium and caring for it is amazingly simple. Container plants require watering more frequently than in the ground. 
7- Aeonium haworthii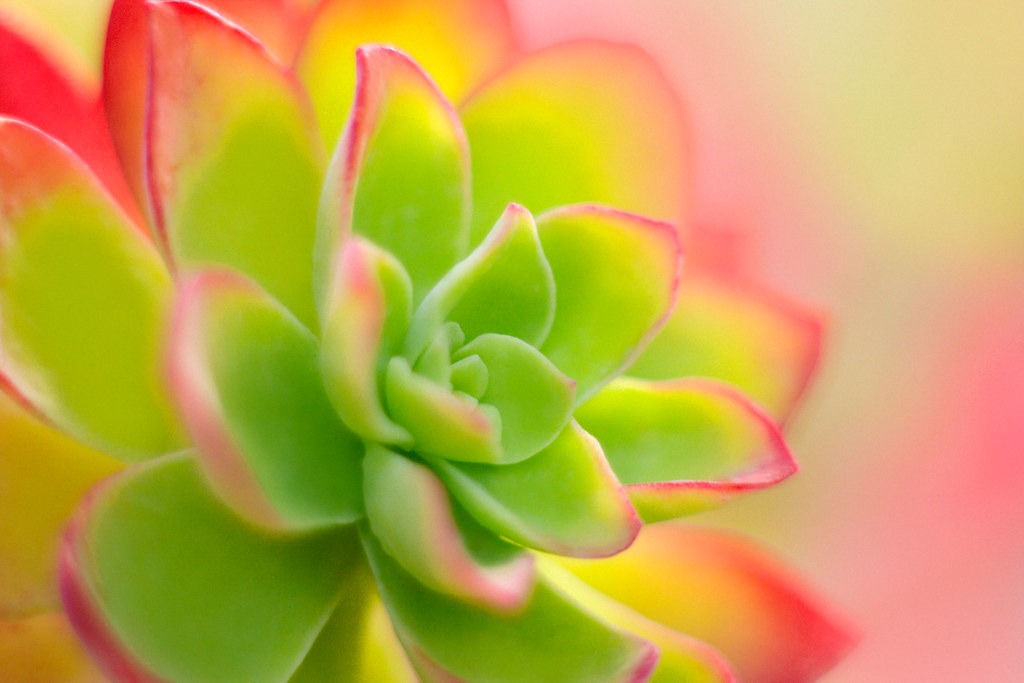 A. haworthii is a small perennial, branching succulent native also to the Canary islands. It has many branches where are borne 3 to 4 rosettes of fleshy, spoon-shaped, bluish-green leaves. Moreover, it produces bright-golden racemes of small, star-shaped flowers in late spring.
This great ornamental plant, likes a well-drained soil, moderate watering and full-sun to light-shade exposure.
8- Aeonium nobile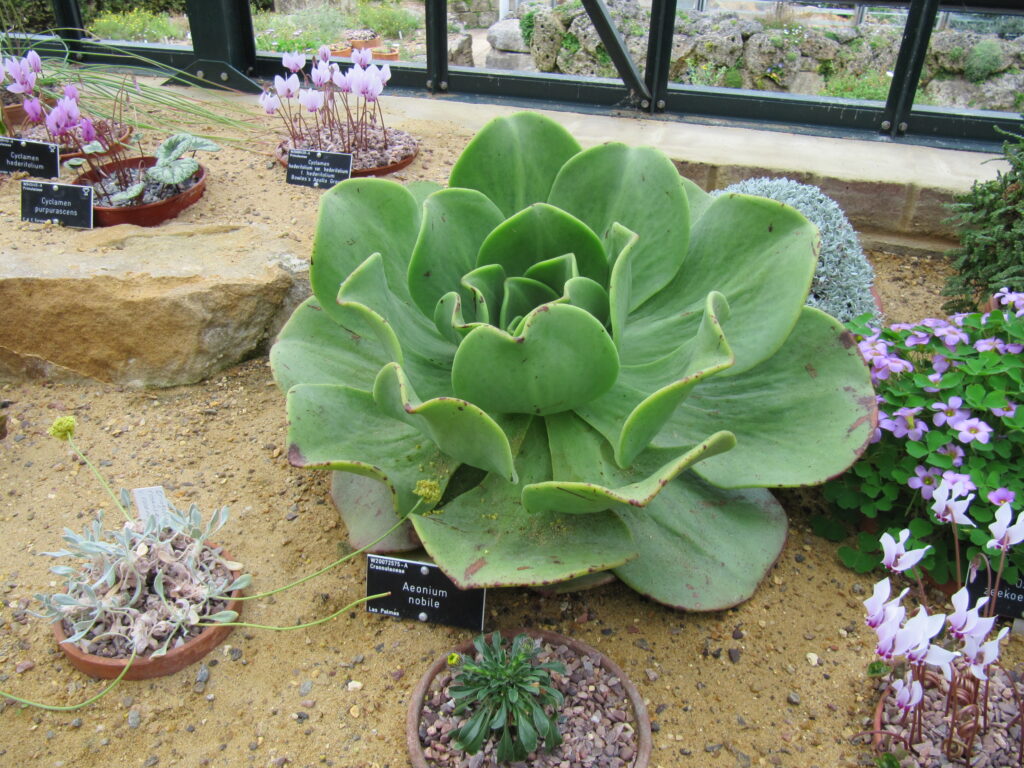 A. nobile, also called Noble Aeonium, is a robust species endemic to Canary islands. This wonderful plant forms rosettes of thick, fleshy, olive-green rounded-tip and triangular leaves, tinged with red and orange, that form atop a stout upright unbranched stem. 
Unlike any other Aeonium, this species produces a large inflorescence of star-shaped, red flowers with white anthers.
9- Aeonium decorum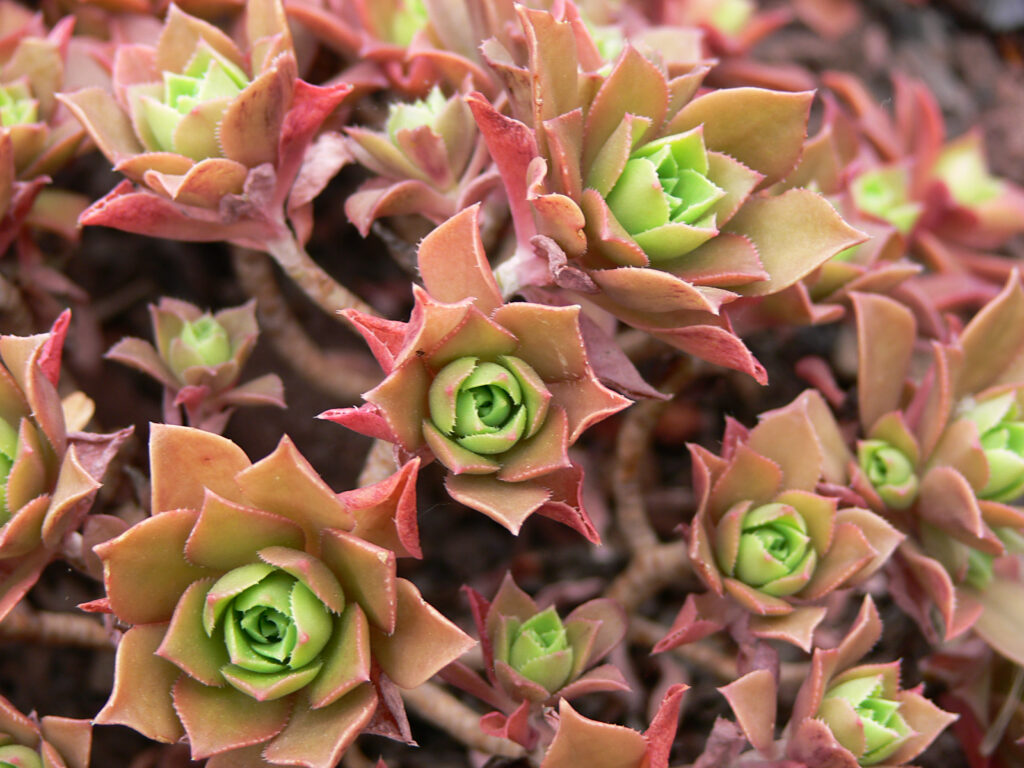 A. decorum is probably one of the most exciting and dramatic looking Aeonium species. It is a perennial shrub found on the island of La Gomera. This branched plant forms small rosettes of obovate, pale green, reddish-tinted leaves with red edges. In late spring, the flowers rise above the leaves with small pink flowers. Generally, Aeonium soil must be well-drained and watered moderately. 
10- Aeonium glutinosum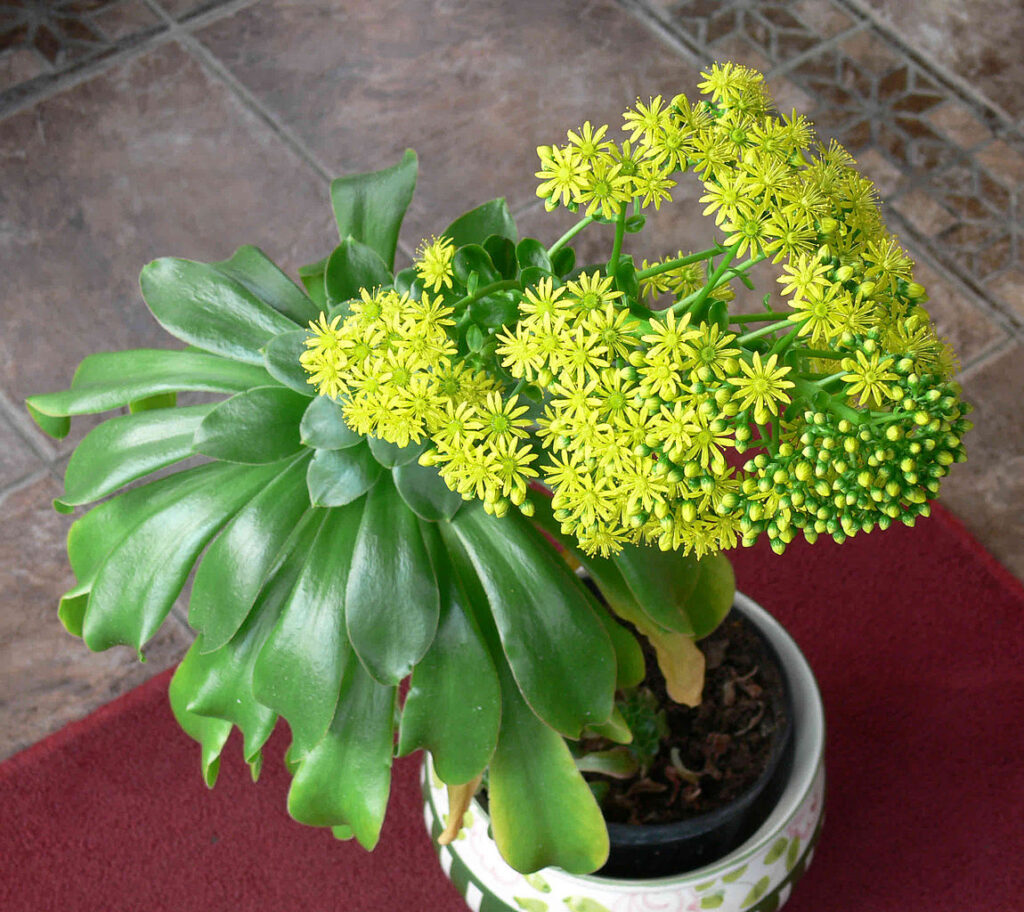 A. glutinosum is a shrubby succulent widely used is dry gardens or as a groundcover. This species coming from Madeira has a red sticky stem bearing light grean, broad and also very sticky leaves (hence its name). Furthermore, in good light, the leaves can produce a red tinge which is very attractive. Also, A. glutinosum offsets freely at an already young stage, and makes a lax, orange-yellow inflorescence.
Finally, Aeonium species list is still very long. We will surely discover the other species in the next articles so, stay up to date!