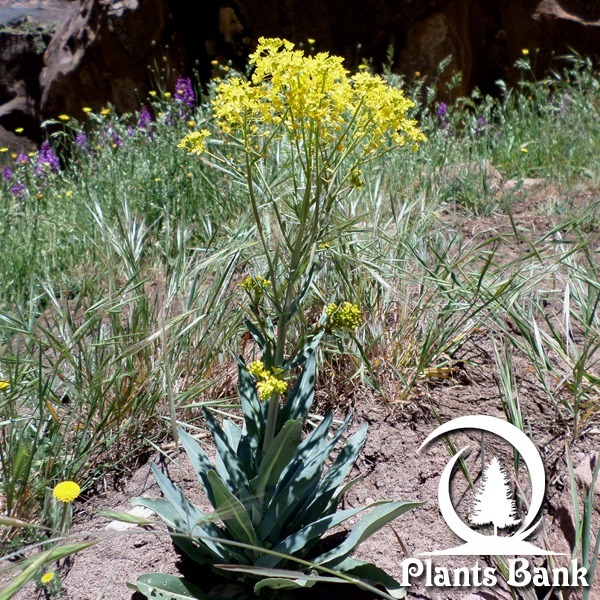 Isatis tinctoria is a perennial/ biennial herb growing to 1.5 m height. Called also dyer's woad, glastum or woad, it has entire and oblong-lanceolate leaves. The hermaphrodite flowers have 4 yellow petals and 6 stamens. The fruit is a 1-seeded silique. The leaves and roots of this plant are used in traditional medicine and also to extract a blue dye.
---
Datasheet
Common Name
woad/ dyer's woad/
glastum
Botanical name
Isatis tinctoria
Family
Brassicaceae
Life Cycle
Perennial, Biennial
Foliage
Evergreen
Basic Colour
yellow
Height
0.6 -> 1.5 m
Habitat
wastelands,
rockeries and lawns
Altitude
2000 m
Bloom Time
May -> June
Plant Type
Herb, Medicinal
Fruit Type
Silique
different tolerances
Tell us
Used Parts
Whole plant
Plant Uses
Medicine, Dye, Tea
Active
substances
Tryptanthrin,
Hydroxycinnamic acid,
Indirubin
USDA Zone
4 (-35), 5 (-29),
6 (-23), 7 (-17),
8 (-12), 9 (-7), 10 (-1)
Sun Exposure
full sun

Soil pH
Acidic, Alkaline, Neutral
Soil Moisture
Dry, Moist
Soil Type
Sandy, Silty,
Clayey, Stony
Propagation
by seeds / by sowing,
Self sows
Germination
Tell us
Pests/ Diseases
Tell us
Open Next Page To See More Photos.