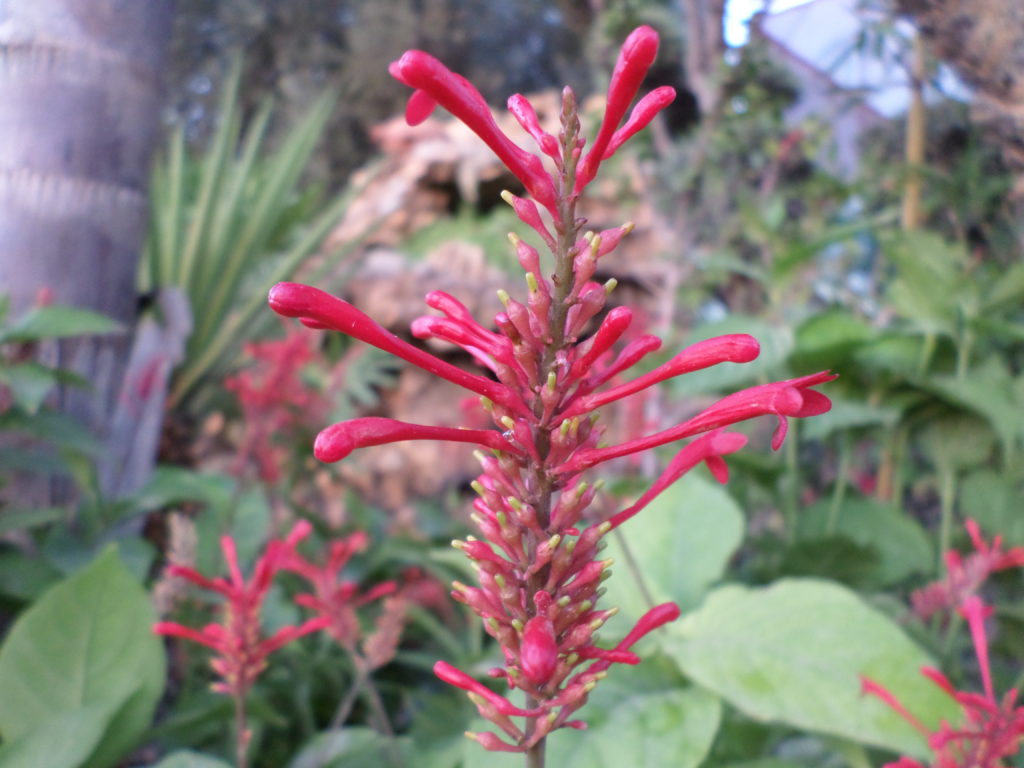 Justicia spicigera, called also mexican honeysuckle, firecracker bush or orange plume flower, is a medicinal plant belonging to the Acanthaceae family. It is a perennial shrub growing to 2 m height and consists of very branched stems with bright-green, opposite and ovate-shaped leaves. The flowers are orange, tubular and grouped into terminal clusters; the fruits are inconspicuous capsules.
---
Datasheet
Common Name
Mexican honeysuckle / firecracker bush / moyotle
Botanical name
Justicia spicigera
Family
Acanthaceae
Life Cycle
Perennial
Foliage
Evergreen
Basic Colour
Red / scarlet / purple
Height
0.9 -> 1.8 m
Habitat
Woodlands, desert areas
Altitude
2000 m
Bloom Time
April -> September
Plant Type
Shrub, Medicinal, Ornamental
Fruit Type
Capsule
different
tolerances
Tell us
Used Parts
Flower, Leaf, Fruit, Twig
Plant Uses
Medicine, Ornamental, Tea, Dye
Active
substances
Tell us
USDA Zone
9 (-7), 10 (-1), 11 (+4)
Sun Exposure
Sun, Part shade
Soil pH
Acidic, Alkaline, Neutral
Soil Moisture
Dry, Fresh
Soil Type
Silty
Propagation
by seeds / by sowing, by Cuttings, by division, Self sows
Germination
Tell us
Pests/ Diseases
White flies, root rot
Open Next Page To See More Photos.