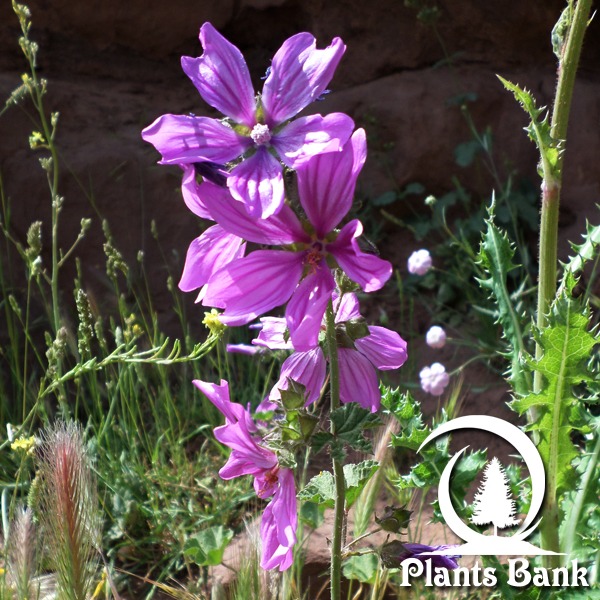 Malva sylvestris or high mallow is a perennial/ biennial herbaceous belonging to Malvaceae family. It forms ascending–erect stems cladded with alternate leaves which are roundish, with dentate margins and numerous lobes. In bloom, the high mallow produces 5-petaled, pink-violet flowers in pairs or small clusters borne in leaf axils. It was traditionally useful for long time as a food and a medicinal plant.
---
Datasheet
Common Name
Cheeses/ high mallow/
tall mallow
Botanical name
Malva sylvestris
Family
Malvaceae
Life Cycle
Perennial, Biennial
Foliage
Deciduous
Basic Colour
pink /violet
Height
0.3 -> 1.2 m
Habitat
Meadows and wastelands
Altitude
Tell us
Bloom Time
May -> September
Plant Type
Herb, Ornamental,
Outdoor,
Medicinal
Fruit Type
Schisocarp
different
tolerances
Tell us
Used Parts
Flower, Leaf, Root
Plant Uses
Medicine , Culinary,
Ornamental
Active
substances
Mucilage
USDA Zone
5 (-29), 6 (-23),
7 (-17), 8 (-12),
9 (-7), 10 (-1)
Sun Exposure
full sun
Soil pH
Alkaline, Neutral
Soil Moisture
Dry, Moist
Soil Type
Clayey, Peaty
Propagation
by seeds / by sowing,
by Cuttings, by division,
Self sows
Germination
Tell us
Pests/ Diseases
Rust
Open Next Page To See More Photos.