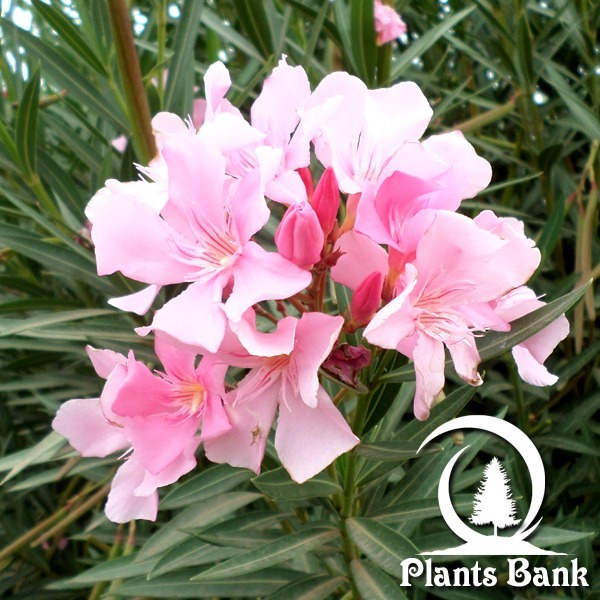 Nerium oleander is an evergreen shrub or small tree belonging to the Apocynaceae family. All parts of the plant are very poisonous; however, Oleander can be used for medicinal purpose. It has green-grey, simple, narrow and short-stalked leaves. It have also five-petaled tubular flowers grouped in clusters and can be red or pink in the wild, and white, yellow or purple in cultivars. The fruit consists of a pair of follicles.
---
Datasheet
Common Name
Nerium/ Oleander
Botanical name
Nerium oleander
Family
Apocynaceae
Life Cycle
Perennial
Foliage
Evergreen
Basic Colour
White / pink / Red
Yellow / Purple
Height
2 -> 6 m
Habitat
Along rivers and streams
Altitude
Tell us
Bloom Time
June -> October

Plant Type
Shrub, small tree,
Ornamental,
Outdoor, Toxic
Fruit Type
Follicle
different tolerances
Tell us
Used Parts
Whole plant
Plant Uses
Medicine, Ornamental
Active substances
Tell us
USDA Zone
8 (-12), 9 (-7)
Sun Exposure
Sun, Part shade,
light shade
Soil pH
Neutral
Soil Moisture
Dry, Moist
Soil Type
Mixture
Propagation
by seeds / by sowing,
Self sows
Germination
Tell us
Pests/ Diseases
red spider and mealybugs
Open Next Page To See More Photos.