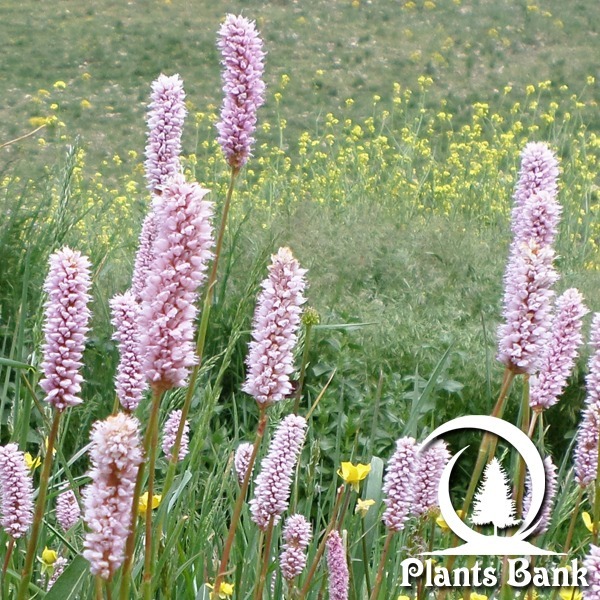 Polygonum bistorta, commonly known as common bistort, European bistort or meadow bistort, is a semi-evergreen herbaceous belonging to Polygonaceae family. It is known by its basal foliage consisting of dark-green, large and lanceolate leaves. The leafless stem bears hermaphrodite pink flowers clustered in a spike. It is cultivated as a culinary and medicinal plant.
---
Datasheet
Common Name
common bistort,
European bistort,
meadow bistort
Botanical name
Polygonum bistorta
Family
Polygonaceae
Life Cycle
Perennial
Foliage
Semi-evergreen
Basic Colour
pink
Height
20 -> 80 cm
Habitat
Meadows and
mountainous areas
Altitude
2400 m
Bloom Time
May -> October
Plant Type
Herb, Medicinal
Fruit Type
Achene
different tolerances
Tell us
Used Parts
Flower, Leaf,
Stem, Root
Plant Uses
Medicine , Culinary
Active substances
Tannin, starch,
gallic acids,
oxalic acid
USDA Zone
3 (-40), 4 (-35),
5 (-29), 6 (-23)

Sun Exposure
Sun, Part shade
Soil pH
Neutral
Soil Moisture
Dry, Moist
Soil Type
Silty, Peaty
Propagation
by seeds / by sowing,
by division, Self sows
Germination
Tell us
Pests/ Diseases
Tell us
Open Next Page To See More Photos.