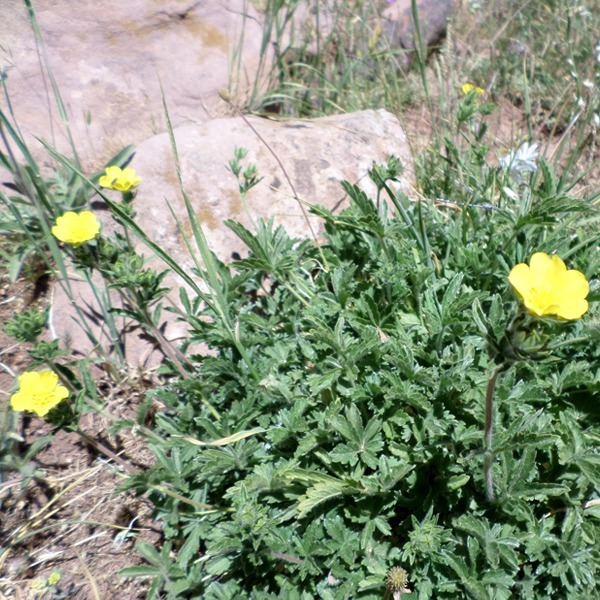 Potentilla recta is a perennial herb with a woody rootstock, growing to 80 cm height. It is commonly known by sulphur cinquefoil and also rough-fruited cinquefoil. Stems are erect, stout and densely haired. Sulfur cinquefoil stems bear many alternate, short-stemmed basal leaves and palmately arranged leaflets. The entire plant is covered with shiny and erect hairs. The 5-petaled flowers are yellow and bloom at the stem ends in clusters from May to October. This species produces dark-brown achenes.
---
Datasheet
Common Name
Rulphur cinquefoil/
Rough-fruited cinquefoil
Botanical name
Potentilla recta
Family
Rosaceae
Life Cycle
Perennial
Foliage
Evergreen
Basic Colour
yellow
Height
20 -> 80 cm
Habitat
sandy lawns,
dry and arid areas
Altitude
0-1200 m
Bloom Time
May -> August
Plant Type
Herb
Fruit Type
Achene
different tolerances
Tell us
Used Parts
Tell us
Plant Uses
Tell us
Active substances
Tell us
USDA Zone
> 6 (-23)

Sun Exposure
full sun
Soil pH
Neutral
Soil Moisture
Dry
Soil Type
Rocky, Stony, Sandy
Propagation
by seeds / by sowing,
by division, Self sows
Germination
Tell us Tell us
Pests/ Diseases
Tell us
Open Next Page To See More Photos.