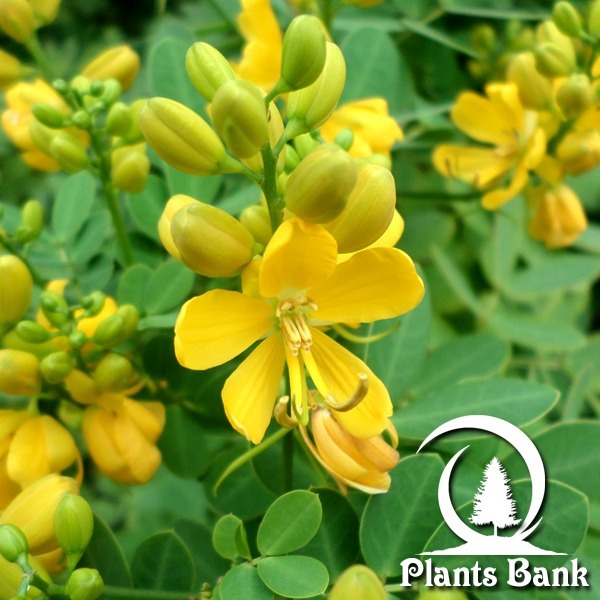 Senna pendula, commonly named Climbing cassia, is a perennial spreading shrub which can reach 4 m height. The stems are much-branched, leaves are green, erect, pinnate and alternate, the flowers are bright yellow with five large petals and each flower measures about 3 – 4 cm wide. The fruit is a cylindrical pod that hangs downwards and produces brown seeds.
---
Datasheet
Common Name
Climbing cassia,
Easter cassia,
senna, Winter senna
Botanical name
Senna pendula var. glabrata

Family
Caesalpiniaceae
Life Cycle
Perennial
Foliage
Semi-evergreen
Basic Colour
yellow / gold

Height
1 -> 4 m
Habitat
Sandy soils
Altitude
<2700 m
Bloom Time
June, July, August,
September, October
Plant Type
Shrubs, Ornemental,
Outdoor, Medicinal
Fruit Type
Legume, Pod
different tolerances
Hardy
Used Parts
Branches, Flower,
Leaf, Fruit
Plant Uses
Medicine, Ornamental
USDA Zone
9 (-7), 10 (-1), 11 (+4)
Sun Exposure
Sun, Part sun, full sun,
Part shade
Soil pH
Acidic, Alkaline, Neutral
Soil Moisture
Moist
Soil Type
Sandy, Clay, Silty
Propagation
by seeds / by sowing,
by Cuttings, Self sows
Germination
Tricky Germinator
Pests/ Diseases
Caterpillars
Open Next Page To See More Photos.