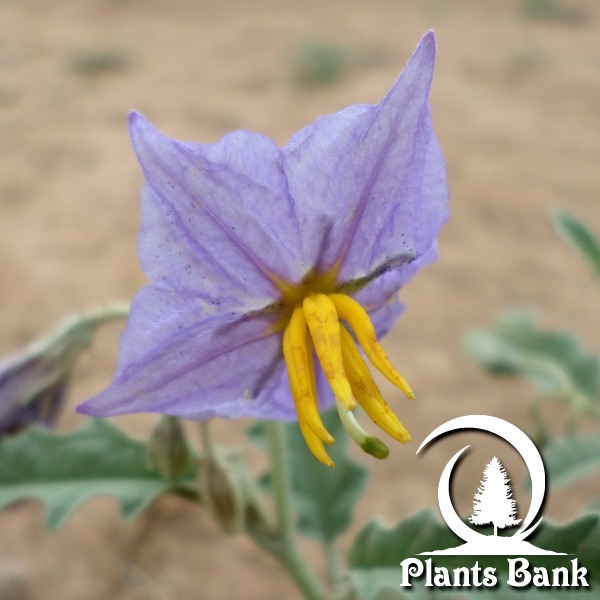 Solanum elaeagnifolium, commonly known as silver leaf nightshade or silver-leaved nightshade, is a perennial multistemmed herb belonging to the Solanaceae family. It has prickly and hairy stems bearing lanceolate, petiolate and hairy leaves, giving the plant a silvery-white appearance. The inflorescence is a solitary cyme of 1–7 flowers with five fused violet petals. Globose berries with flat, greenish-brown seeds are produced by this species.
---
Datasheet
Common Name
silverleaf nightshade/
silver-leaved nightshade
Botanical name
Solanum elaeagnifolium
Family
Solanaceae
Life Cycle
Perennial
Foliage
Evergreen
Basic Colour
Violet
Height
60 -> 90 cm
Habitat
Cultivated lands,
meadows
Altitude
>1300 m
Bloom Time
May -> September
Plant Type
Herb, Toxic, Medicinal
Fruit Type
Berry
different
tolerances
Tell us
Used Parts
Whole plant
Plant Uses
Medicine
Active
substances
Solanine, solasonine,
solasodine
USDA Zone
Tell us
Sun Exposure
full sun
Soil pH
Alkaline, Neutral
Soil Moisture
Dry
Soil Type
Sandy, Silty,
Clayey, Stony
Propagation
by seeds / by sowing,
by division, Self sows
Germination
Tell us

Pests/ Diseases
Tell us
Open Next Page To See More Photos.