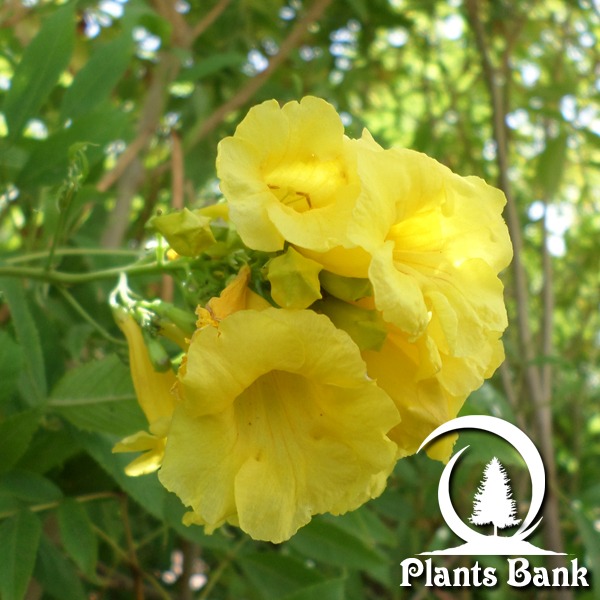 Tecoma stans is a perennial small sized tree or shrub, much-branched which can reach 5 m height. It features opposite leaves, odd pinnate medium green, 10 to 25 cm long. The trumpet-shaped flowers are bright yellow in colour and the fruit is a large, elongated and flattened capsule. The plant is drought-tolerant and grows well in warm climates.
---
Datasheet
Common Name
yellow bells,
yellow trumpetbush,
yellow elder, giger-thomas

Botanical name
Tecoma stans
Family
Bignoniaceae

Life Cycle
Perennial
Foliage
Evergreen
Basic Colour
yellow / gold
Height
4 -> 5 m
Habitat
Grasslands,
sunny rocky cracks,
Woodland
Bloom Time
April -> October
Plant Type
Shrubs, Ornamental,
Medicinal, Outdoor
Fruit Type
Capsule
different tolerances
Drought tolerant
Used Parts
Leaf, Bark, Root
Plant Uses
Medicine, Ornamental,
Construction (wood)

Active substances
Tecomine
USDA Zone
10 (-1), 11 (+4), 12 (+10)
Sun Exposure
Sun
Soil pH
Acidic, Alkaline, Neutral
Soil Moisture
Moist
Soil Type
Sandy, Peaty
Propagation
by Seed , by sowing,
by Cuttings, by layering
Germination
Cold Germinator,
Fast Germinator
Pests/ Diseases
red spiders, whitflies
Open Next Page To See More Photos.