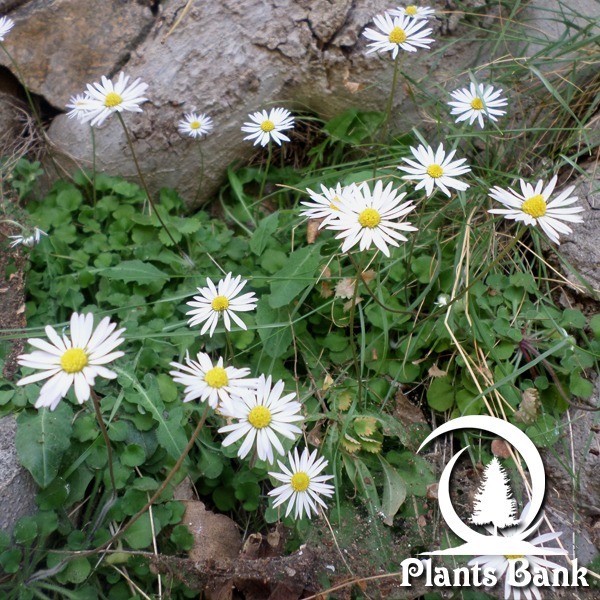 Bellis perennis, which mean perennial beauty, is a perennial medicinal plant of the Asteraceae family. The spoon-shaped leaves form a basal rosette of dark green. The flowerheads are surrounded by two rows of bracts and consists of white female flowers and yellow hermaphrodite florets. The fruit is a flat achene without pappus. The leaves are edible and the whole plant is widely used in homeopathy.
---
Datasheet
Common Name
Common daisy,
lawn daisy,
english daisy
Botanical name
Bellis perennis
Family
Asteraceae
Life Cycle
Perennial, Biennial
Foliage
Evergreen
Basic Colour
white / yellow
Height
10 – > 20 cm
Habitat
Lawns, meadows,
roadsides
Altitude
2500 m
Bloom Time
April -> September
Plant Type
Herbs, Ornamental,
Outdoor, Medicinal
Fruit Type
Achene
different tolerances
Tell us
Used Parts
Flower, Leaf
Plant Uses
Medicine , Culinary
Active substances
Saponins, Tannin,
Essential oil,
Flavones,
Bitter principle,
Mucilage
USDA Zone
3 (-40), 4 (-35),
5 (-29), 6 (-23),
7 (-17), 8 (-12),
9 (-7), 10 (-1)
Sun Exposure
Sun, Part sun
Soil pH
Neutral
Soil Moisture
Moist
Soil Type
Ordinary
Propagation
by Seeds, by sowing,
by division
Germination
Tell us
Pests/ Diseases
Slugs and snails
Open Next Page To See More Photos.