EASY NATURAL WAYS TO KEEP SLUGS OUT OF YOUR GARDEN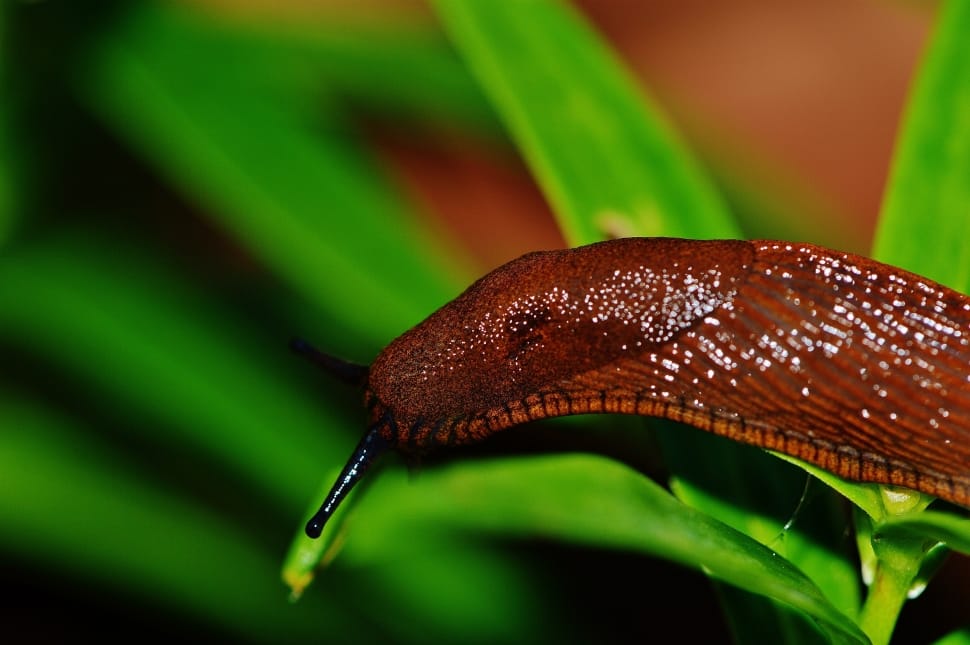 Something is eating your crops at night? do you find slime traces and small droppings? You may receive unwanted guests who love your plants. These guests can be SLUGS, pretty little critters but certainly one of the most feared garden pests.
In this article you will find various tips and tricks to limit the damage of these fearsome gastropods and get optimal gardening!
All the tips presented in this article are eco-friendly and respect the environmental health!
SOME SLUG FACTS?
To avoid any danger, you must firstly understand it and ask yourself some questions. Regarding slugs, the questions that arise most often are: are slugs dangerous? what do slugs eat? where do slugs come from? where do slugs live? are slugs poisonous to dogs and cats? … Here are some answers!
Slugs are hermaphrodite terrestrial gastropods which are different with snails by the absence of the shell. These mollusks can be found throughout the world, most often in temperate and humid climates and feed on fruits and plants, especially tender young shoots. There are various types of slugs but they all are an absolute menace in the vegetable gardens thanked to their 27000 teeth (that can be lost and replaced regularly) and their developed olfactory system. However, they have a key role in the decomposition of organic matter, and as a part of the food chain, they ensure the survival of many animals that we love more than them. For this reason, we have to adopt organic methods to identify, control, and get rid of slugs without disturbing the ecosystem balance.
DAMAGE AND SYMPTOMS
Slugs are nocturnal creatures which means that are more active at night. They eat, mate and move during night and hide in dark, damp places during the day. So if you have searched hard but you can't find them, you are not alone!
Here are some symptoms that can help you identify the danger and keep your garden under control.
1- SLUGS SLIME:
Slugs have a muscular foot which helps them to move by crawling. However, their mobility is only possible by mucus secretion which allow them to slide more easily. So if you spot silvery slime marks, know that you have to deal with slugs.
2- SLUGS EGGS:
Slugs and lay their eggs in moist soil or compost. If you notice globular white creamy eggs, they surely belong to slugs.
3- HOLES AND RAGGED EDGES:
Another annoying symptom is the irregularly-shaped holes in leaves, stems, flowers, tubers and bulbs.
4- SEEDLINGS DISPARITION:
Slugs can gobble up all the seedlings you carefully planted in your garden within minutes and destroy all of your favorite plants in just a few days.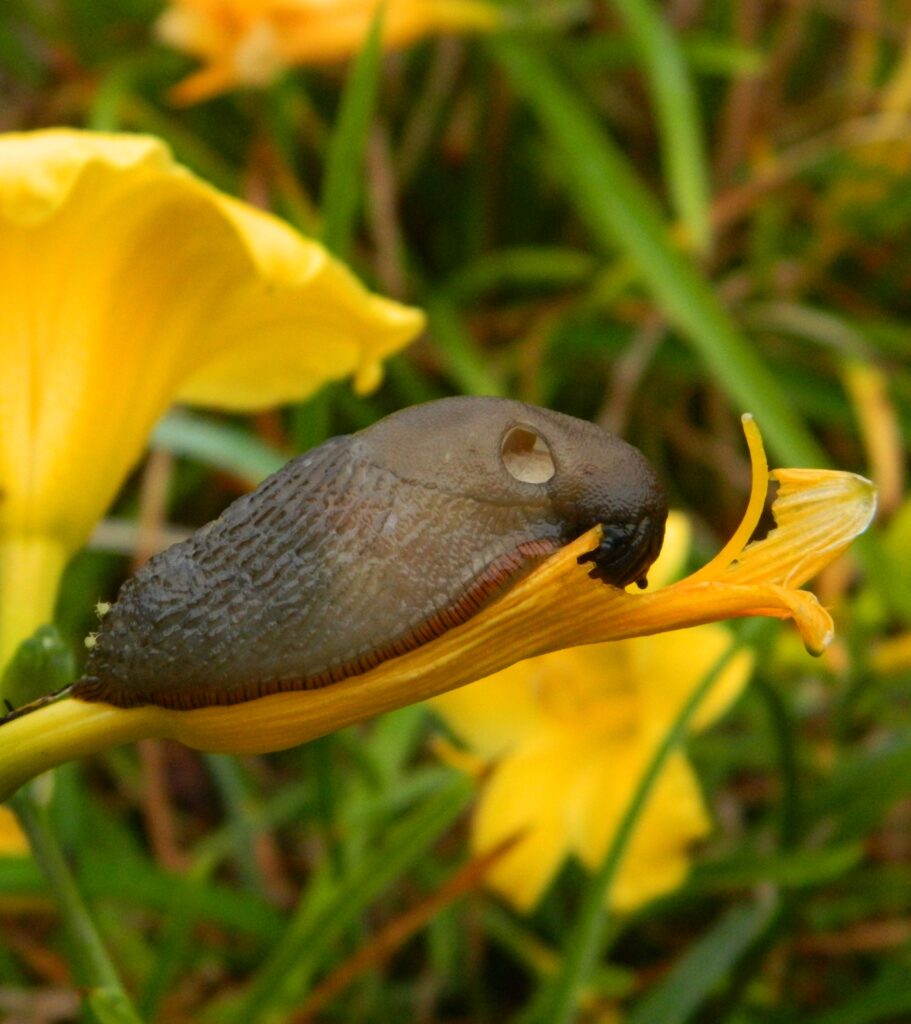 CONTROL AND PREVENTION
Fighting slugs without using chemicals is possible and crucial because the environment suffers from too many pesticides. Therefore, to keep slugs away from plantations, you must first focus on prevention then use ecological control methods in case of a slug infestation in garden.
PREVENTION
1- RAKE THE EARTH:
Rake your garden in early spring in order to clean up some of the moist debris that slugs love.
2- ATTRACT PREDATORS:
Favor the arrival of their natural predators: birds, beetles, toads, hedgehogs … simply by promoting biodiversity in the garden, for example by installing refuges (hedges, trees, tall grass, piles of wood or stone …).
3- CLEAN YOUR GARDEN:
Slugs prefer sick or just cut leaves, so place sick parts of your crops and other plant waste away from your garden.
4- REPELLENT PLANTS:
Place repellent plants on the edges of your garden. Mustard, clover, tagettes or blackcurrant protect sensitive crops and will act as natural barriers.
5- WATERING:
Water infrequently but abundantly because slugs are always looking for moisture.
6- PLANTS TRAPS:
In order to keep slugs away from more valuable plants, place plants that they love near your more-valuable plants as a trap, and then destroy the infested plants. Good traps for slugs include chervil, marigold, and thyme.
7- DESTROY HIDING AREAS:
Avoid thick mulching or large wood chips because they provide hiding areas for slugs.
GET RID OF SLUGS
Do you want to know how to keep snails out of garden? Here are some easy and feasible ways.
1- SLUG BARRIERS:
Use anti-slug barriers. They can be fences or folded nets to prevent slugs from passing.
2- PICK OFF SLUGS:
Pick off slugs and throw them away of your garden. Avoid doing it with your hands, some people are allergic. The best time to do this is night, because during the day only between 5 and 10 percent of slugs are above ground and the remaining 90 to 95 percent of the slug population is below ground.
3- DIY SLUG BAIT:
Create organic slug bait either by using planks filled with potatoes (appreciated by slugs) or peels of melons and citrus fruits. Collect them every day and throw them very far from the garden.
If slugs proliferate in your garden despite your precautions and you want to buy a product, know that there are more ecological treatments, safe for humans and other components of the ecosystem.
4- IRON PHOSPHATE:
You can use granules based on iron phosphate. Spread on the ground, these granules attract slugs that eat them. Very quickly, they stop feeding and die.
5- ALCOHOL:
Make an insecticidal spray containing alcohol (Isopropanol or ethanol, be sure they don't have additives).
6- BEER:
Beer attracts slugs from far away, and may drown while trying to drink. Sometimes, beer can not be a good solution because various slug enemies can also drown in beer and give them more chance to multiply.
To permanently get rid of slugs in your garden, there is no need to buy chemicals that will have disastrous consequences on the environment and that are also expensive. focus first on the prevention side, and after if there is a visit from our slug friends try natural and intelligent non-harmful tips.